What to Bring
Weather and What to Bring:  (summer)
There is a reason why one of the adjacent wilderness areas is named "The Never Summer Wilderness" and why the local rodeo is referred to as "The Never Summer Rodeo."   Snow has occurred during all 12 months of the calendar and, on average, North Park experiences only about 45 frost-free days during the summer.  This "arctic picture" is not painted in an attempt to scare people from visiting; it's only to make sure people arrive prepared.  In all actuality, June through September is generally beautiful.  Sunny days with temperatures reaching 80 degrees are the norm.  Typical evenings will dip into the low 40's.  Having various layers of clothing is the best way to prepare for the range of temperatures and conditions.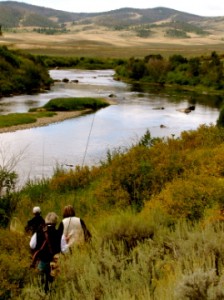 We encourage guests to bring any of your own fly fishing equipment and gear that you are accustomed to and feel comfortable with.  Orvis rods, reels, waders, and boots, are available for our guests to use free of charge.   Additionally, guests should make sure they bring:  sweater or fleece jacket and pants for layering, lightweight and windproof jacket, rain gear (jacket & pants), swimsuit for the hot tub, a hat (one for warmth, one for blocking sun), cowboy boots for horse riding (we have some for loan if you don't have any), day-style backpack, fishing vest or pack, polarized sunglasses, sunscreen, mosquito repellent, and camera.  The sun is intense at this elevation; lightweight, long-sleeve shirts will provide protection from both UV rays and mosquitoes.
Alcoholic beverages are not provided but please feel free to bring your own.  The closest liquor store is 25 miles away so you may want to make purchases on your way to the ranch.  Colorado State fishing licenses are required to fish all our waters and we encourage you to get yours on your way to the ranch.  If not we will have to take you to town to get them and that travel time will compromise your first evenings guided activities.  These are not available for purchase at our ranch.  They are available at many retail outlets throughout the state (sporting goods, grocery stores, Wal-Mart, etc.) or can be purchased online at the Colorado Department of Parks and Wildlife website:  www.wildlife.state.co.us.com.
FYI: We encourage all guests to bring slippers or crocks to wear around the Lodge.  Shoes/Boots are not allowed to be worn in the Lodge.
Weather and What to Bring:  (hunting season)
September (archery season) is generally the most pleasant month in North Park.  The mosquitoes are gone, days are sunny with few storms, and daily temperatures average around 65 degrees.  Gear preparation for an archery hunt is fairly simple.  A variety of camo clothing (pattern is irrelevant) from lightweight to mid-weight will suffice for the normal weather conditions and un-insulated hiking boots will generally suffice.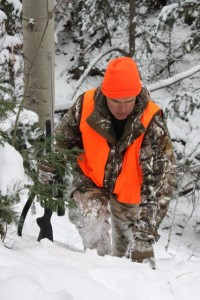 The weather during October and November (rifle hunts) is somewhat more unpredictable than that of September.  The opening day of rifle season has varied from a sunny 70 degrees to 15 degrees below zero.  The average temperatures during the rifle season are around 35 degrees.  If you view The Hunters Stories portion of this website, you will see actual pictures of past hunters; some wearing little more than their orange vest, while some are bundled-up like their hunting musk ox in the arctic.  Generally we have received some snow before the rifle seasons begin, but it often melts in a day or two and doesn't start accumulating until Thanksgiving.
Dressing in layers is the best way to adjust to changing conditions.  I find the synthetic materials work best as they wick moisture away from your body, are fast to dry, and provide insulation even when wet.  Wool also works well but is heavier than the synthetics.  Cotton materials are not a good choice for hunting gear as they retain moisture and have no insulation value when wet.  A good pair of waterproof, insulated boots is a must have.  Make sure they are broken-in before your arrival!
The following is a suggested list of items to bring.  Since you will be staying in a comfortable lodge that you can drive to and we don't need to pack-in your items on horseback, feel free to bring what will help make your hunt comfortable and enjoyable.  Some of the below items are carried by your guide but can become important for you to have if you are sitting on stand without your guide nearby.
Rifle and ammunition (preference is on the largest caliber you feel comfortable with but major preference is placed on you arriving with a rifle you have practice with— a lot!)
Bow and arrows (must be fixed blades; if you can't demonstrate weapon proficiency to us, we will stay in camp and practice until it is achieved!)
Shooting sticks (a steady rest is paramount for a well-placed shot, practice using them!)
License
Hunter's safety card (anyone born after 1/1/1949 must have one or you will not hunt!)
Binoculars
Range Finder
Cow elk call (Primos, Carlton, or the like)
Hunters-orange vest or coat plus a hunters-orange hat (pertains to rifle hunters only, camo-orange is not legal in Colorado!)
Insulated cushion (useful when sitting outside a blind)
Small, lightweight daypack/backpack (carry snacks, water, layers of clothing, etc.)
Small, lightweight flashlight
Knife (sharp knife for your guide to use—his is seldom sharp!)
Sunscreen, Sunglasses and Chapstick (climate is dry and UV rays are intense)
Medications and toiletries
Insulated and waterproof boots (an extra pair can be handy in wet conditions)
Insulated underwear (shirt and pants, synthetics are a must)
Fleece, wool or some type of synthetic hunting pants and shirts
Waterproof jacket and pants
Warm, waterproof hat and gloves (remember; you must always wear an orange hat)
Wool or warm socks
Slippers or crocks for the lodge: Shoes/Boots are not allowed to be worn in the Lodge
Swimsuit for the hot tub
Water bottle
Books, magazines or even your favorite DVD's
Camera
Coolers for taking home meat and capes
Alcoholic beverages are not provided but please feel free to bring your own.  The closest liquor store is 25 miles away so you may want to make purchases on your way to the ranch.  Absolutely no consumption of alcohol is permitted until the end of the day or after a hunter is finished hunting.
Weather and What to Bring:   (winter/holiday)
Usually by Thanksgiving the snow is beginning to accumulate and temperatures remain below freezing most days.  Snowstorms tend to be relatively brief; sun-filled days are the norm.  During winter the temperatures can drop well below zero, but that's generally for very brief periods.  Even days with cold temperatures seem warm due to our very dry climate and ever-present sunshine.
Snow storms can briefly make the drive into the ranch difficult but, shortly after the storm passes, we will have the roads plowed.  4wd vehicles are always beneficial when traveling in the mountains, but they are not a necessity to reach our ranch and lodge.
Since our winter/holiday packages do not include meals, the main item for you to bring is your food.  Your meal planning and shopping might require a little more forethought and precision than that at your home.  There's no grocery store just down the street to pick up forgotten items; the nearest store is 25 miles away and it's probably not the equivalent of the supermarkets you are accustomed to.  Bring your food items and your set.  The lodge has two kitchens:  the main one on the bottom floor is a fully-equipped, professional kitchen complete with all the pots, pans, utensils, etc.; the second kitchen, on the main floor, is smaller but still contains all the needed supplies for your meal preparation.
Miles of trails are available for you to quietly explore.  As the snow deepens, snowshoes or cross county skis are a must for getting around efficiently.  We do not provide either so please bring your own.  The nearest available rentals are 55 miles away in Steamboat so it's good idea to have them before you arrive.  Depending on the ice conditions on Buffalo Lake, ice fishing and ice skating are an option.  We'll gladly drill a hole in the ice, loan you a rod, and give you some lessons on catching trout through the "hard water."  Since our fishing is catch-and-release and trout experience high mortality rates in the winter, this activity is limited to one day during your visit.  Feel free to bring your ice skates.  We'll shovel an area for you to skate at 9,000 feet.  It may not be as smooth as Rockefeller Plaza, but it's guaranteed to be a lot less crowded!
The lodge and ranch is reserved entirely for your party; feel free to bring whatever items (games, DVD's and CD's, books, etc) that may enhance your group's enjoyment during your visit.