Ranch Activities
Ranch Activities:
Hiking
Wildlife Viewing & Photography
Shooting Sports: Trap Range, Target Rifle, Archery

4wd Eco-Tours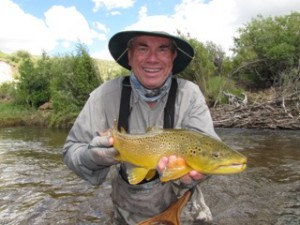 We consider our ranch an exclusive sportsman's paradise where guests take pleasure in some of the finest fly fishing trips in Colorado and big game hunting available. Fly fishing opportunities abound on both our private waters and local public waters. Buffalo Creek, only a couple hundred yards from the lodge, underwent extensive stream rehabilitation projects in 2001 and 2004. It's a smaller stream that affords non-stop action for catching wild trout on dry flies. Buffalo Lake, our 45 acre trout-trough, entices guests to enjoy both superb angling for large trout as well as some water sports. Canoes, kayaks, and personal fishing craft are provided for those wishing to spend some leisurely time on the water. Our waters include over 75 miles of private streams and 12 private lakes; definitely one of the most diverse and largest offerings of private waters offered by any fly fishing lodge. Our guides are not only experts in catching fish but, most importantly, they're specialist at teaching the art of fly fishing. Beginners to seasoned pros will delight in our diverse offerings.
Our big game hunting program offers world-class hunting for elk, mule deer, antelope, and moose. Guests enjoy the comforts of luxury accommodations coupled with 18,000+ acres of private land and superb guides eager to help you harvest the trophy animal you've always dreamed of. Client numbers are strictly limited ensuring a true western hunting experience where you see lots of game and don't need to share your hunting area with others. Over 95% of our guests go home with bull elk but, more often than not, it's the quality of the overall hunting experience that they rave about.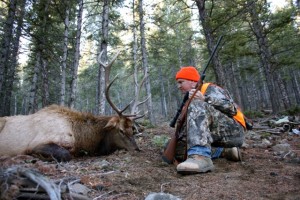 While pursuing wild trout or free ranging elk are the passions of many guests, most partake in some other activities while visiting the ranch. And, as is standard procedure on our ranch, your summer activities will be guided by our staff that knows the area and are eager to share its intimacies with you.
The seclusion of our valley, coupled with carefully managed habitat, provides a natural harbor for an abundance of wildlife. Herds of elk graze in our hay meadows while groups of antelope browse on the surrounding sagebrush covered hillsides. In the springtime, black bears are often spotted around the lakes in search of food after their long winter hiatus. Less commonly seen, except for their tracks, are mountain lions and bobcats. North Park is considered the "Moose Viewing Capital of Colorado" and this is evidenced by keeping a close eye along willow-covered stream bottoms. In the springtime, bird watchers from around the world gather in North Park to view sage grouse perform their unique courtship rituals at their chosen leks (mating areas where they return year after year). Guided wildlife viewing and photography tours on foot, horseback, or in 4wd vehicles are always available.
Whether a beginner or a sharpshooter, ranch visitors are invited to participate in a variety of shooting sports during their stay. For the shotgun enthusiast, a professional trap range is available. It's a great way to learn basic shotgun handling or hone your existing skills while enjoying a little competitive camaraderie with your group of friends. A rifle range is available for hunters needing to sight-in their rifles before their hunt and short-range, pop-up targets are available for summer guests that wish to try their hand at shooting a .22 rifle. We also have a few longbow's setup for you to try your skills at our archery range.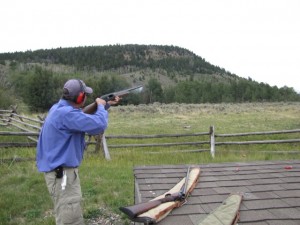 Years of timber management activities have provided a great network of two-track trails around the ranch. In the summer, these trails grant superb access for hiking. These routes cover a range of ecosystems and terrain; from sagebrush covered mountaintops offering county-wide vistas, to dark spruce/fir forests where visibility is limited to the open path ahead. In winter, these same trails offer guests unparalleled opportunities for exploring the quietness and solitude of the season on snowshoes or cross country skis. Depending on ice conditions, winter visitors are welcome to spend some time ice fishing on Buffalo Lake or join ranch hands in feeding our livestock. Those groups spending the Christmas Holiday are able to cut a fresh tree within close hiking distance of the lodge. Of course, curling-up on a comfortable couch with a favorite book as a fire crackles in the massive fireplace is always an option as well.
With all to do on the ranch, it's hard to leave, but outside exploring opportunities do abound. Since 70% of North Park is public land, just down the road you can find Rocky Mountain National Park, natural sand dunes, wildlife refuges, designated wilderness areas, State and National Forests, and whitewater rafting. Walden's local museum is a must-see for history buffs. For those seeking the comforts of civilization, the charming alpine village of Steamboat Springs is less than an hour away offering world-class skiing, fine dining, art galleries, and a host of other activities to tempt the entire family.
At the Buffalo Creek Ranch, there's so much to do we know you'll be making deals with the sun and we're confident that leaving will be the hardest thing you have to do all week. We invite you to experience The Buffalo Creek Difference.