Lodge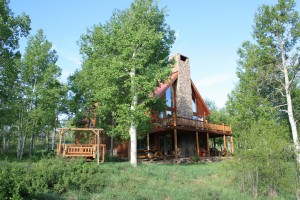 The Wapiti Lodge (Wapiti—Arapaho Indian word meaning "white rump," or elk) awaits visitors in a tranquil aspen grove at 9,000 feet of elevation.  This beautiful, six bedroom retreat sits in the heart of the property and ensures guests a luxurious stay.  From its three story front windows, guests are frequently treated to elk lazily feeding in the meadow or mule deer browsing on the hillside.  As one's eyes travel further they follow our private valley; following pastoral hay meadows cordoned off by the zigzag of rustic buck-n-rail fences, forested hillsides, and Buffalo Ridge, out across the amazing expanse called North Park.  The view ends at the distant, jagged, snowy peaks of the Park Range.  Large wrapped decks and patios grace this Colorado fly fishing lodge, complete with a hot tub, comfortable furniture, and an outdoor gas fire pit. The stunning views are hard to miss.
Most guests find little time to be inside, but the occasional afternoon rainstorm sends even the most intrepid outdoorsmen and women indoors so we made sure that every detail of inside life reflects our area's natural splendor.  Fireplaces made of moss rock gathered on the ranch; furniture crafted by local artisans from locally collected pine, aspen and weathered barn wood; animal mounts of local wildlife; and western artwork and accessories gently remind guests of their setting.
Three floors are arranged for seclusion when desired as well as providing common areas to promote comfortable gatherings amongst friends.  Each of the three floors hosts two private bedrooms with a shared bath.  Bed choices range from queen to side-by-side twins.
The middle floor boasts the grandest room.  Soaring windows provide ample sunlight and views.  The two-story fireplace and comfortable seating arrangement invite guests to relax and read a good book.  The satellite television and relaxing furniture provides another sitting area for those wishing to watch a movie or catch-up on the latest news.  An informal dining area and smaller kitchen grace one side of the great room providing a great area to play table games and a fridge to keep your favorite beverages cold and close-by.  The bar-style table on the enclosed sun porch, as well as the chairs on the surrounding outside deck, summon the morning coffee drinker and evening wildlife viewer to take notice of the spectacular view.
In spite of the grandeur of the mid-level great room, the bottom floor is where guests tend to spend their evening, mainly due to the talented ranch cook working some culinary magic in the adjoining professional kitchen.  Another living area; with cozier ceilings, books of local interest, bumper-pool and poker table, bar, moss rock fireplace and dining area draws guests in as they hunker down to smell the food being prepared.  This is the area where meals are served and digested as folks relive the days' adventures of the big one that got away.  Guests unabashedly agree that the lodge provides for all their basic needs and beyond.
The Lodge does have a land-line and satellite internet for guests to keep in touch with the outside world, but due to our remoteness, there is no cell coverage at the lodge.  Most guests will use the landline or take a short drive a few miles from the lodge where they can pick up cell service.  There's also new apps out there such as: "text me" or "whats app" that give you the ability to make calls on your cell through the wifi.  if your interested in that route make sure to download the apps before coming to the ranch.  Our satellite internet is great for checking email's but is far lesser than what you might expect in the real-world, so we ask that guests not surf or stream movies as it will crash the service.
Buffalo Creek Ranch Lodge
(Click an image to enlarge)