The Buffalo Creek Difference?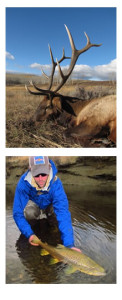 Let's face it, if you're checking into the possibility of vacationing at a fly fishing lodge or ranch this year, you're probably overwhelmed by the choices available to you. Most reputable, high-end outfits offer great accommodations and meals, friendly staff, beautiful scenery, fly fishing, wildlife viewing and a variety of other opportunities and amenities. So why choose The Buffalo Creek Ranch among this plethora of options?
First, your small family or group will have our entire lodge, ranch, and staff exclusively to yourselves! Have you ever dreamed of owning a spectacular Colorado ranch but found yourself a few million dollars short? Well, with our very distinctive ranch vacation packages, we can save you some money (a lot actually) and spare you the hassles of upkeep. Having a spectacular mountain ranch for yourselves for a few days…now that's a unique vacation opportunity.
Secondly, size does matter! Not only in the amount of private land we own (nearly 20,00 acres) and lease (an additional 80,000 acres), but also in the conscious decision to only take a maximum of 8 guests at a time to enjoy this magnificent place. What does this mean for you and your group? It means the boundless diversity of waters (more than 75 miles of private rivers and 12 private lakes) that you'll fish and the trails that you'll explore are exclusive to very few guests we take each year guaranteeing a high quality and solitude experience. We offer you activities to participate in; not a schedule to follow. Do as much or as little as you like during your visit. Do you prefer your breakfast at 6:00 or at 9:00?…either is fine as our intimate group sizes enable us to custom-tailor a package to your desires.
Thirdly, the majority of our staff lives on and works on the ranch or in the area year 'round. We intimately know the waters you'll fish and the area you'll explore like no others can…it's our home. But most importantly is what you'll feel while you're our guest that may be hard to find at lodges catering to 50 or more people a week. That is the sense of being welcomed into our home to share our Western lifestyles with us. We live here and welcome you to enjoy our daily lives during the reprieve from yours. We are not striving to commercialize our ranch, rather to share this unique slice of paradise which we feel fortunate to care for. This feeling permeates through everything we do here at the ranch and that is the Buffalo Creek Difference.