Winter Vacation Packages
Winter is a quiet and peaceful time on the ranch. As the snow blankets the forests and the streams and lakes freeze over, the wildlife, livestock and even the ranchers settle-in to a slower pace. Imagine your family celebrating a special, once-in-a lifetime holiday in your own secluded retreat where the only sounds you will hear are those that you make. We offer five night packages over the Thanksgiving, Christmas, and New Years weeks. These packages include lodging and unguided access to the ranch trails for hiking, snowshoeing, and cross-country skiing. Guests are responsible for their meals which can easily be prepared in the two fully-equipped lodge kitchens. Package price is for families or groups up to eight persons. Make your plans now so your family can spend a truly unforgettable holiday vacation at the Buffalo Creek Ranch.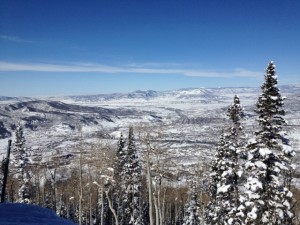 The Price of Holiday Paradise…………….For 1 – 8 people: $6,495
Included in this package:
Exclusive use of the lodge and ranch.
Use of ranch trails for unguided snowshoeing, cross-country skiing and hiking (must bring your own equipment)
Sledding and tubing (equipment provided).
Ice fishing on Buffalo Lake (we'll drill the hole and loan you the rod).
Availability to cut your own fresh Christmas tree.
Viewing and participation in working ranch activities: feeding cattle and horses.
Ice skating on Buffalo Lake, conditions permitting (bring your own skates).
Additional information:
Check-in is 3:00 pm on Sunday; Check-out is 10:00 am on Saturday.
Registration information, contracts, and liability waivers must be completed and signed by all guests. These are mailed upon receipt of the required reservation deposit.
World-class downhill skiing is available in nearby Steamboat Springs and Winter Park, each a short 55 miles away.
A deposit of 60% is required to reserve your vacation package; the balance is due upon check-out from the ranch.
Applicable sales taxes and staff gratuities are not included in the package price.
Payments:
For summer and winter vacation packages, a 60% deposit is required to make a reservation. The balance of payment, including applicable taxes, is due upon departure from the ranch. Hunting packages require a 50% deposit to reserve a hunt with the remaining balance due 30 days prior to the hunt start. Payment can be made with cash, check, or credit card (Visa, Mastercard, American Express, or Discover). Payments made with credit cards will have a surcharge applied (currently 4%).
Cancellations:
Due to the limited amount of guests we take during a very short season, cancellations of summer or winter packages made within 60 days of arrival date will forfeit their full deposit unless the space can be re-booked. Cancellation spaces that are re-booked or cancellations made prior to 60 days before scheduled arrival will be charged a 25% handling fee. Deposits made for hunting packages are non-refundable unless the space can be re-booked. Cancellations must be made in writing. To protect against unforeseen circumstances, we strongly encourage guests purchase travel insurance from an independent provider.
Gratuities:
Our staff is paramount in providing memorable experiences and guests continually praise them for going the extra mile to ensure every desire is met. As is customary in service oriented businesses, a gratuity of 10-15% of your package rate is suggested. This can be added to your final bill upon check-out and will be divided equally among the entire crew.