Big Game Hunting Packages
Our hunting packages include access to our 18,000+private acres, lodging, meals, guiding, transportation around the ranch, and meat processing.  Guests are responsible for their licenses and any taxidermy work.  Bull elk licenses are available "over-the-counter" for Colorado's 2nd and 3rd rifle seasons and by drawing only for the 1st and 4th seasons. All mule deer, pronghorn, and moose licenses are by drawing only.  Pre-planning of your hunting adventure is advised to ensure licenses and hunt availability.  We continually maintain a waiting list of hunters waiting to book a hunt after our existing clients have chosen their spots for subsequent years.
The Price of Hunting Paradise…………
5 Day Rifle or Archery Hunt:
Elk (Archery and 1st Rifle Season)                      $8,400
| | |
| --- | --- |
| Elk or Deer (2nd, 3rd, and 4th Rifle Seasons) | $7,400 |
| Moose | $8,400 |
| Combo Elk & Deer | $9,900 |
3 Day Rifle Hunt:
| | |
| --- | --- |
| Elk or Deer: | $5,900 |
| Combo Elk & Deer: | $8,400 |
| Pronghorn (Antelope) | $5,400** |
| | |
Non-Recreational guests…………………
$200 per night per person (available on limited, space-available basis; includes food & lodging only, not able to accompany hunting guest in the field)
**Price of pronghorn hunt includes using our landowner voucher to obtain the buck license. Our area is managed for trophy antelope and it typically takes a hunter 10+ years of applying to obtain a license. We are usually able to draw a buck tag every three years, or so, through the Priority Landowner application process. This is a prime opportunity for a trophy pronghorn.
Included in this package:
Accommodations in our modern lodge.
Three hearty meals served daily.
Professional guiding, two hunters per guide.
Assistance in applying for limited licenses.
Transportation (in four wheel drive vehicles) to access various hunting areas.
Packing-out, skinning, and hanging of harvested game in our walk-in cooler.
Preparation of trophies for taxidermist (caping of heads, freezing hides, removing antlers).
Delivery of your capes and antlers to our preferred taxidermist, should you choose to utilize their independent services.
The basic processing, packaging, and freezing of harvested game is included. Every attempt will be made to accomplish this in our own facility, however, game that is harvested on the last day of the hunt will be delivered to a meat processing facility and then shipped to you. The additional charges for shipping and handling are not included in the hunt price.
Additional information:
Expected arrival to the ranch is the afternoon before the hunt begins; departure is the morning after the last day of hunting.
The first meal served is dinner the evening before the hunt begins.
Price does not include cost of hunting license.
Any taxidermy work and shipping of heads, hides, or meat are not included in the price.
Alcohol is not provided, please feel free to bring your own.
Alcohol consumption is not allowed until your hunt is concluded for the day.
Registration information, contracts, and liability waivers must be completed and signed by all guests. These are mailed upon receipt of the required reservation deposit.
Applicable sales taxes are not included in the price of the hunt
A 50% deposit is required to book a hunt. Balance is due 30 days prior to hunt start.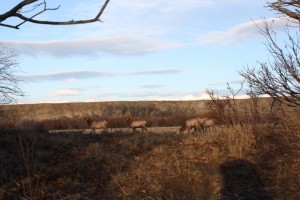 Payments:
For summer and winter vacation packages, a 60% deposit is required to make a reservation. The balance of payment, including applicable taxes, is due upon departure from the ranch. Hunting packages require a 50% deposit to reserve a hunt with the remaining balance due 30 days prior to the hunt start. Payment can be made with cash, check, or credit card (Visa, Mastercard, American Express, or Discover). Payments made with credit cards will have a surcharge applied (currently 4%).
Cancellations:
Due to the limited amount of guests we take during a very short season, cancellations of summer or winter packages made within 60 days of arrival date will forfeit their full deposit unless the space can be re-booked. Cancellation spaces that are re-booked or cancellations made prior to 60 days before scheduled arrival will be charged a 25% handling fee. Deposits made for hunting packages are non-refundable unless the space can be re-booked. Cancellations must be made in writing. To protect against unforeseen circumstances, we strongly encourage guests purchase travel insurance from an independent provider.
Gratuities:
Our staff is paramount in providing memorable experiences and guests continually praise them for going the extra mile to ensure every desire is met. As is customary in service oriented businesses, a gratuity of 10-15% of your package rate is suggested. This can be added to your final bill upon check-out and will be divided equally among the entire crew.