Colorado Elk Hunting Outfitters
We get it! You're shopping for the Colorado elk hunting outfitter that fits all your needs. Your elk hunt and who you hunt with is a huge investment and a tough decision.  There are myriads of options available to you and every hunter has personally experienced or heard stories from friends who have gone on guided hunts that were total "rip-offs."  Research, compare, and always check references of any potential Colorado elk hunting outfitter.  Make sure you contact our previous hunters and visit our elk photos and hunting stories on our blog to learn firsthand what you can expect at our ranch. We have been Colorado elk hunting outfitters for 28 years and boast a greater than 80% returning client rate.  This exemplary rate of returning, raving customers is testimony to our dedication and professionalism in providing world-class hunting adventures.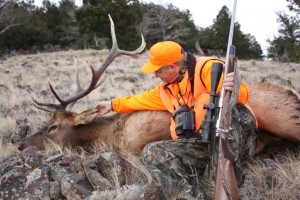 While we've averaged a 90% success rate on harvesting bull elk, we don't believe it's just the "kill" that makes a hunt.  Plenty of game preserves exist for those looking to purchase an animal.  Our free-chase hunting packages focus on the overall hunting experience, an experience that will surely provide you life long memories.
"These guys have a little bit of experience when it comes to elk hunting!  I'm addicted and need to come back for some therapy…booking now for next year."  Steve Reynolds, NE
Ranch Management Philosophy and Practices:
Three hundred and sixty-five days a year we center our management on sharing this 18,000-acre ranch with its wildlife and improving habitat.
As a working cattle ranch and premier Colorado elk hunting outfitter, we conduct our cattle operation in a manner that is beneficial to the wildlife by lightly, but completely grazing the entire ranch during the summer months to provide palatable and nutritious growth in the late summer and fall when elk need the nutrition to get through the rut and prepare for winter.
We implement timber harvesting practices to improve the forage base and remove diseased/bug infested trees to provide regenerated, healthy forests for future generations.  Our timber management treatments to aspen stands provide regenerated/new growth aspen creating tender shoots, providing a critical winter feed source.
We develop springs throughout the ranch to distribute cattle grazing to benefit their grazing range and provide ample water sources for wildlife.
Under no circumstances are employees or guests allowed to disturb critical elk calving areas — ever. Trust me on this one. I've begged to ride quietly and carefully through these areas, and have been chastised repeatedly.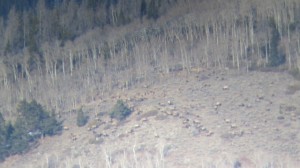 And your Hunt…
Our hunts focus on just exactly that — the hunt. While everyone wants to get a nice animal, we don't overlook the various factors that make the experience truly unforgettable. We cater the hunt to your specific physical capabilities, your preferred method of hunting, the game movement patterns, weather, and other factors to ensure a quality experience.
We strictly limit the number of hunters taken each year to ensure you a quality experience. Our elk act more natural because they're not under constant hunting pressure — you'll get to view elk feeding quietly in a meadow rather than running from cover to cover. You won't run into dozens of other hunters when you stalk the animal of your dreams. In short, you'll get an uninterrupted, real hunt.
Our guides work and live on the ranch year 'round and know the terrain and the animal patterns like no other — we share our home with the wildlife and know what's going on.
Our guides have over 50 years of combined elk/deer hunting experience in the mountains of Colorado — not bad considering the oldest one of those guides is just 44 years old. They love hunting and that enthusiasm will show when you hunt with them. We pride ourselves in not just helping a guest get their elk, but in helping them become better hunters and learn more about the game we pursue.
We offer fully enclosed, comfortable blinds located in key wildlife areas providing excellent shooting opportunities for those who enjoy stand hunting or have physical limitations.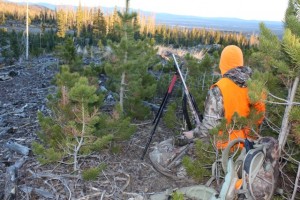 The accommodations are provided in our new, luxurious lodge where hearty and delicious meals are provided. Although many prefer the mystique of a back country tent hunt, we find that hot showers, a comfortable bed, delicious meals and even a soak in the hot tub enables our guests to hunt longer and harder the following day.
Through years of experience we know that the proper care of game meat is paramount to ensure excellent table fare.  With that in mind, we installed our own walk-in cooler/freezer and built our own state-of-the-art meat cutting room so we are able cut, package, and freeze the majority of the elk we harvest.  It's just one more detail that demonstrates our commitment to providing a quality hunting experience from the field to the freezer.