Colorado Elk Hunts and Other Big Game
Some of the best Colorado elk hunts can be found nestled in a private, secluded valley and shadowed by the snow capped peaks of the Continental Divide. The Buffalo Creek Ranch provides the healthy habitat crucial for an abundant species of wildlife to thrive.  Our valley provides a natural harbor for resident elk and acts as a natural funnel for elk migrating from nearby Rocky Mountain National Park and various Wilderness areas.  Additionally, hunting on adjacent public lands often pushes elk on to our property as they seek reprieve from the pressure.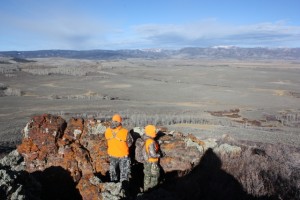 Think of it. Ten thousand private acres in the epicenter of prime Colorado elk territory that receives on-going habitat enhancement, careful management, and hunting pressure from fewer than thirty bull elk hunters a year. If that's not enough, in close proximity we also own and manage another three ranches encompassing an additional 9,000 private acres of prime elk hunting.  Elevations range from 8,000 to 10,500 feet.  The varying terrain encompasses a mixture of dark timber, forested hillsides, aspen groves, willow bottoms, mountain meadows, hay fields and sagebrush expanses.  These combined ingredients create a recipe for an elk hunting nirvana.
While we manage for opportunities at the biggest and best animals possible and have an average 95% success rate in harvesting mature bulls and bucks, we believe the reason we all hunt is for the experience, and the "Buffalo Creek Experience" is surpassed by few.  As all our guests quickly learn, your every need is met.  From the field to the freezer; we have you covered.
"Thanks for a true experience of a lifetime.  I've hunted out West the last 5 years and this tops them all. Hope to return again next year!"  Steve Cumming, MA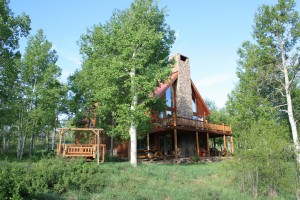 Accommodations are provided in our luxurious six bedroom lodge complete with all the amenities.  Meals are hearty and delicious.  Despite the rigors of hunting in the West, most of our guests "complain" they gain weight during their stay.  Hunts are fully guided by seasoned pros who have years of big game hunting experience.
Unlike many outfits, our guides live and work on the ranch year 'round and grew up hunting in Colorado.  They know the land you're hunting and the animals you'll pursue.  Most importantly, they truly delight in sharing their expertise with you.
"In the span of about ten minutes, I learned more about hunting than I had in 33 years!  Paul was able to read the elk and set me up for an unbelievable opportunity for my first elk."  Jim Sween, NE
A variety of hunting methods are utilized.  From spot and stalk to sitting in a comfortable, heated blind, we are able to custom tailor a hunt to match a variety of hunting preferences and physical capabilities.  All hunts are conducted by accessing areas in vehicles and hunting on foot.  Long horseback rides into "elk country" aren't necessary here, elk country lies right out the lodge door!
We believe part of the hunting experience includes having excellent table fare from the game you harvest.  We've gone the extra mile to ensure this by constructing our own meat processing facility where our staff will process your game.  Should you be fortunate enough to harvest your game during the first days of your hunt, you'll actually be able to head home with your meat packaged and frozen.
We focus our attention at providing high quality rifle hunts for elk, mule deer, pronghorn antelope, and moose.  To maintain this vision, we offer only a limited number of archery hunts so as to not interfere with our resident elk herds during the critical rut and we only take about 30 rifle hunters per year. Rifle hunters will delight with this management practice as there is abundant wildlife, plenty of room to roam, and, often, bulls still bugling during our hunts.
Luxurious accommodations, delicious meals, abundant game, trophy-class animals, an attentive staff, expert guides, game processing, and an extraordinarily high success rate ensure a great hunting experience; a Buffalo Creek Ranch Experience.
"I had a totally enjoyable hunting experience.  Everyone on the ranch worked very hard as a team.  The accommodations and hospitality were beyond my expectations." John Loveday, NY
Visit the Colorado Division of Wildlife website where you can:
•  Purchase fishing licenses
•  Purchase over-the-counter elk licenses
•  Apply for limited draw licenses (application deadline for fall hunts is usually around April 1st)
•  Plan for future Colorado elk hunts by applying for preference points