Successful Hunter Photos
2016 STORIES
2014 STORIES
2013 STORIES
2012 STORIES
2011 STORIES
2010 STORIES
2009 STORIES
2006 STORIES
2005 STORIES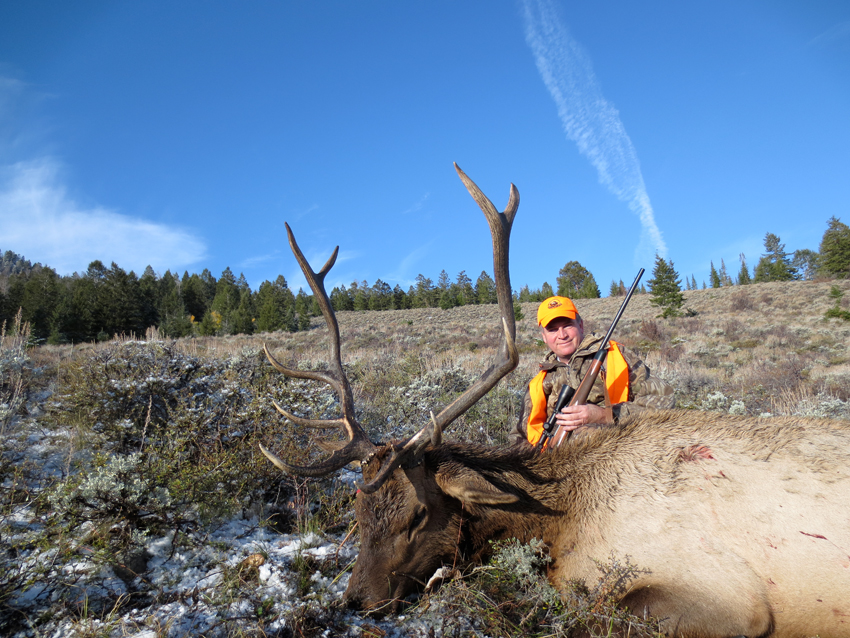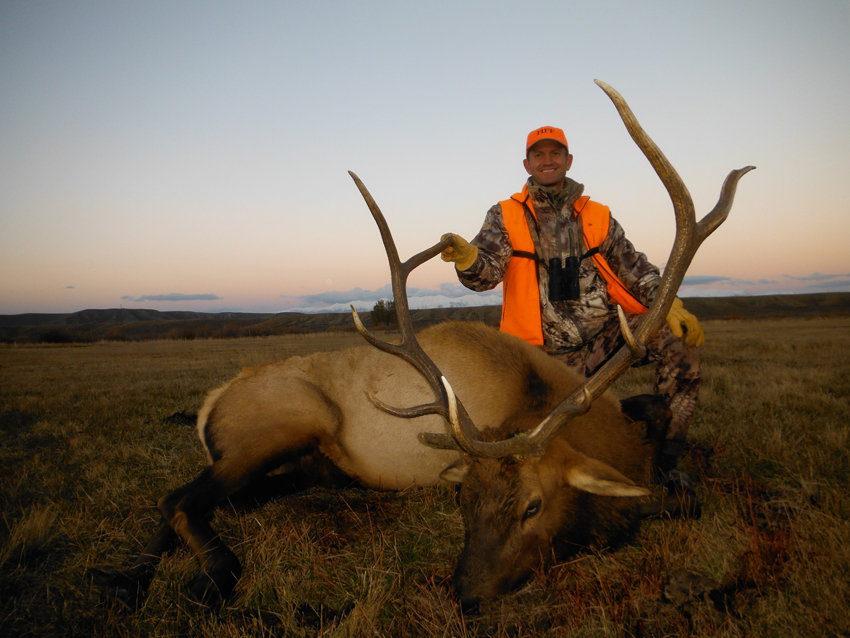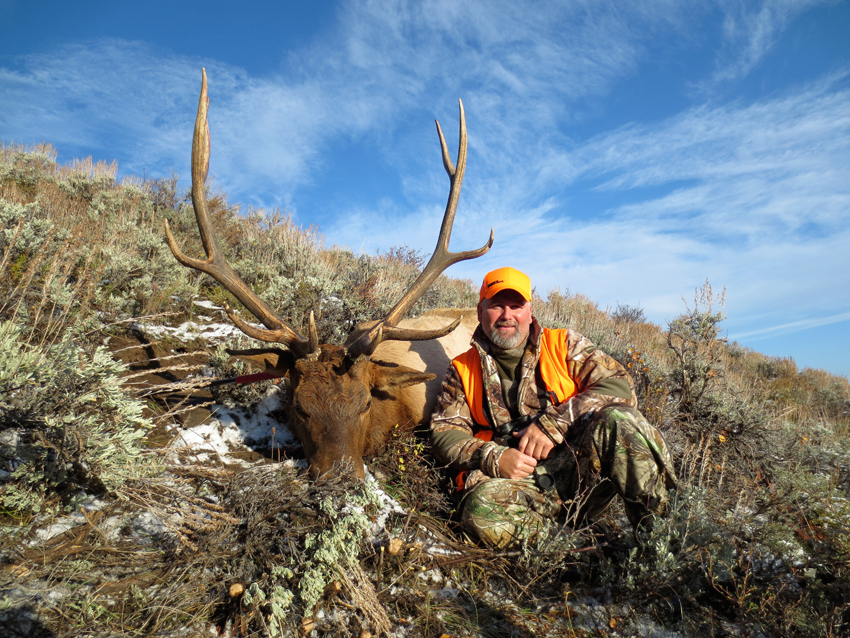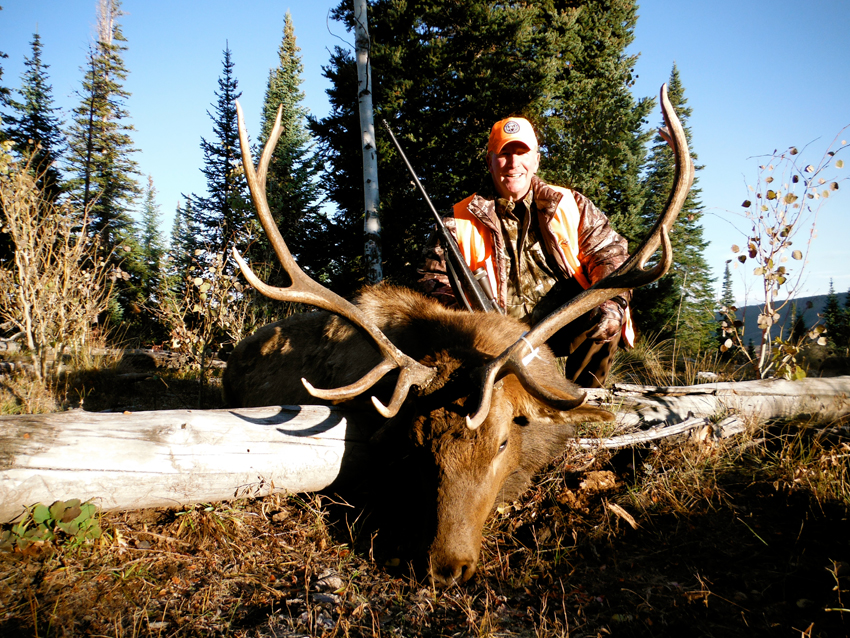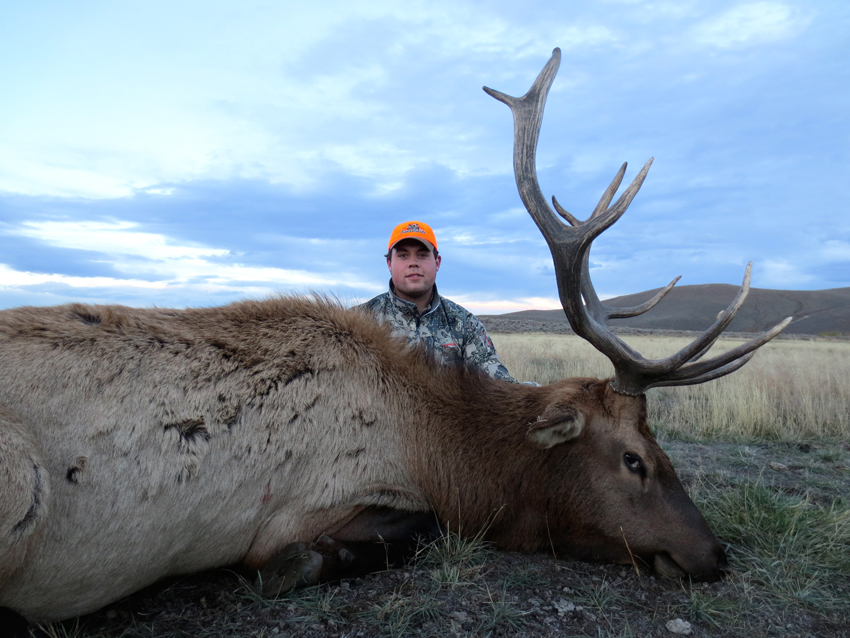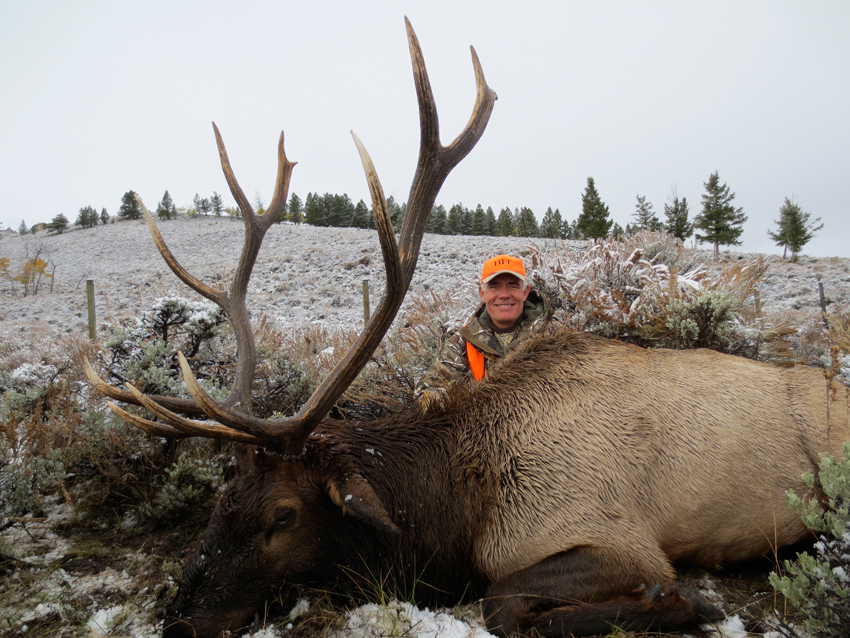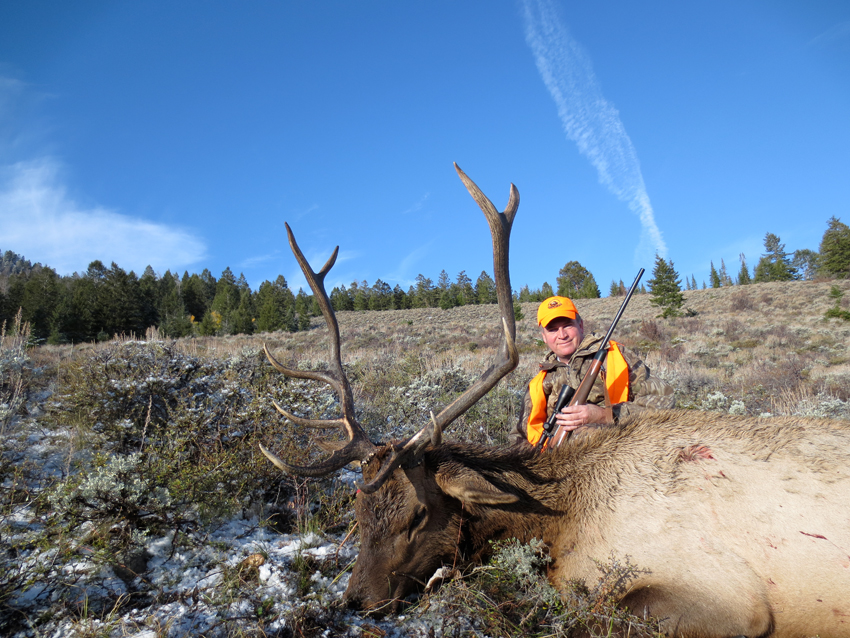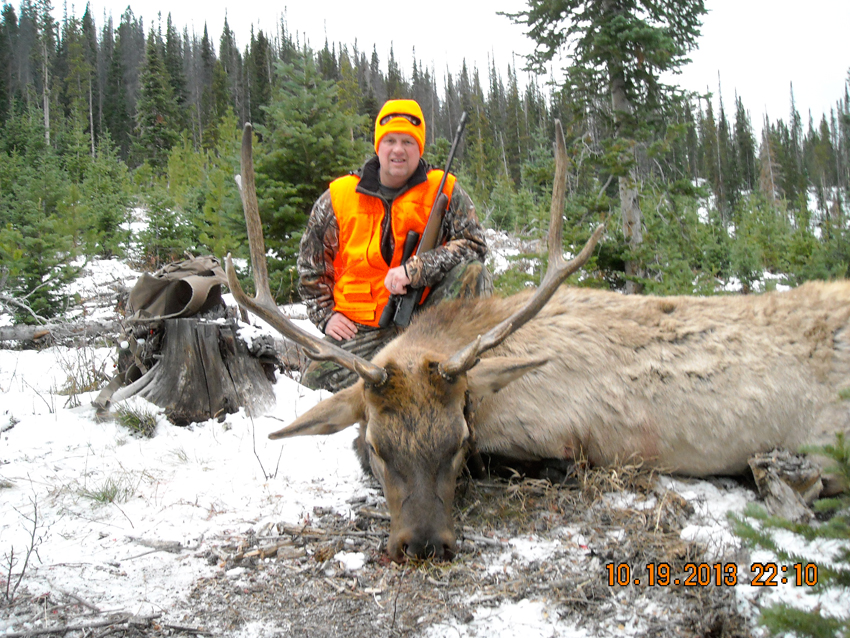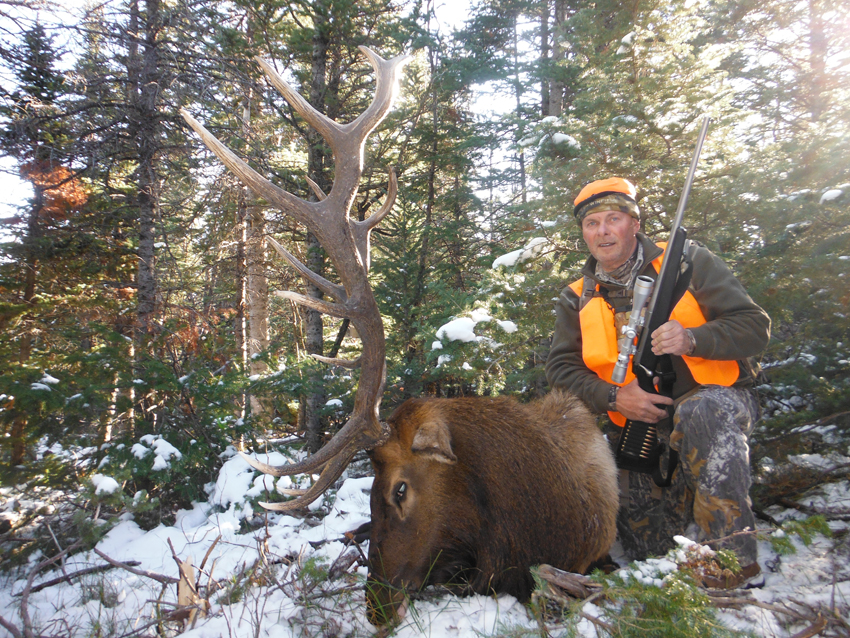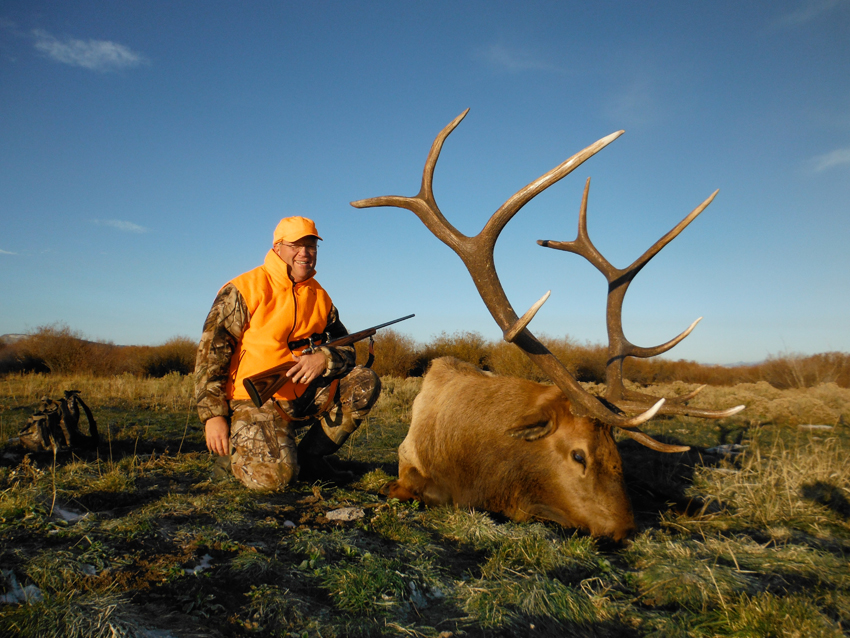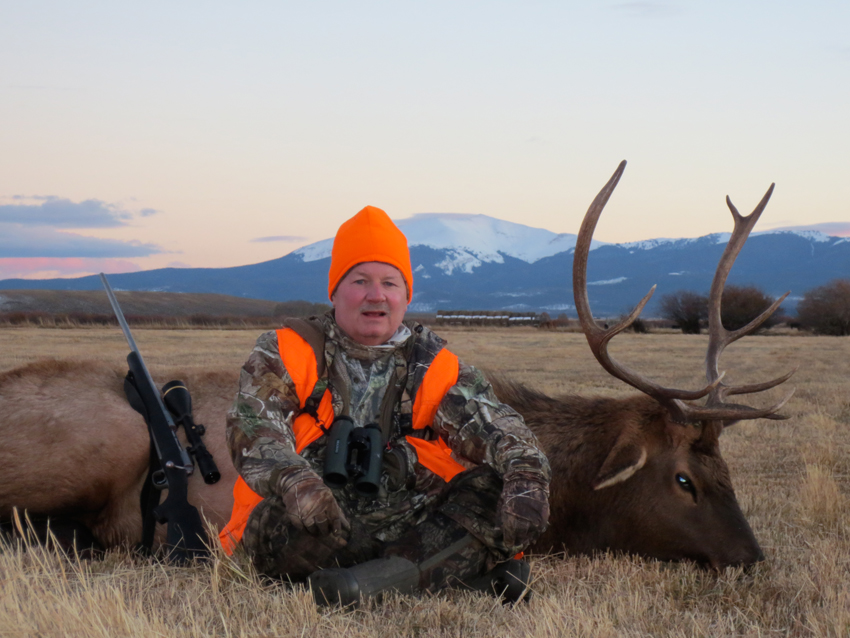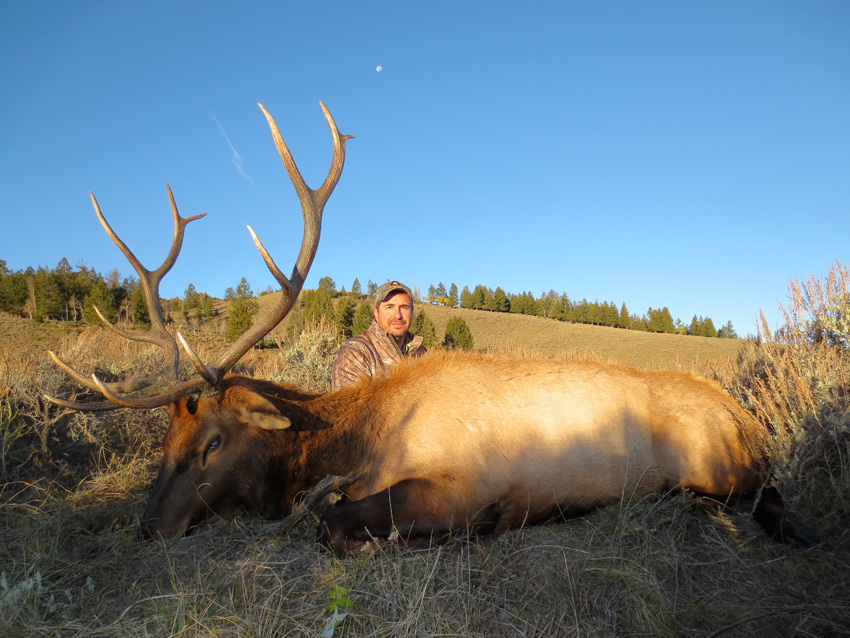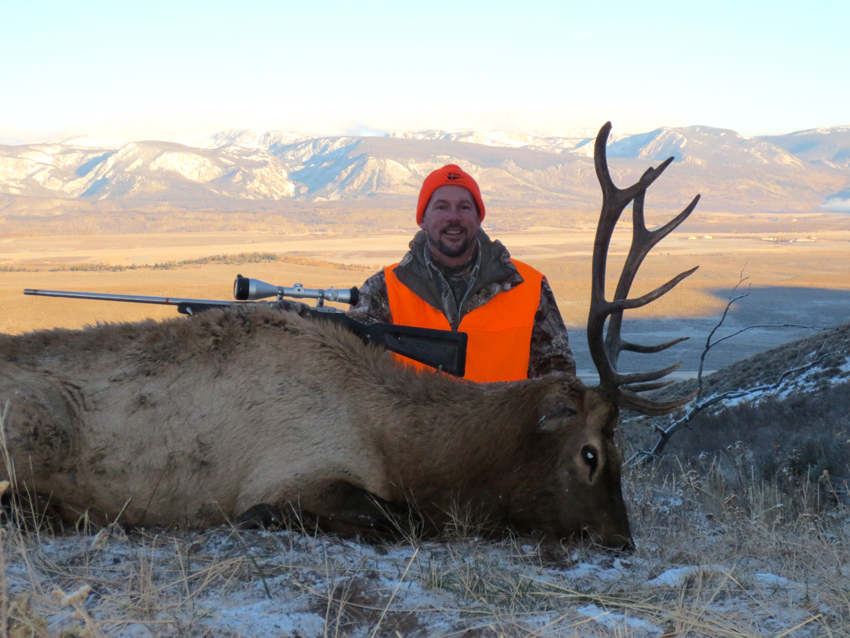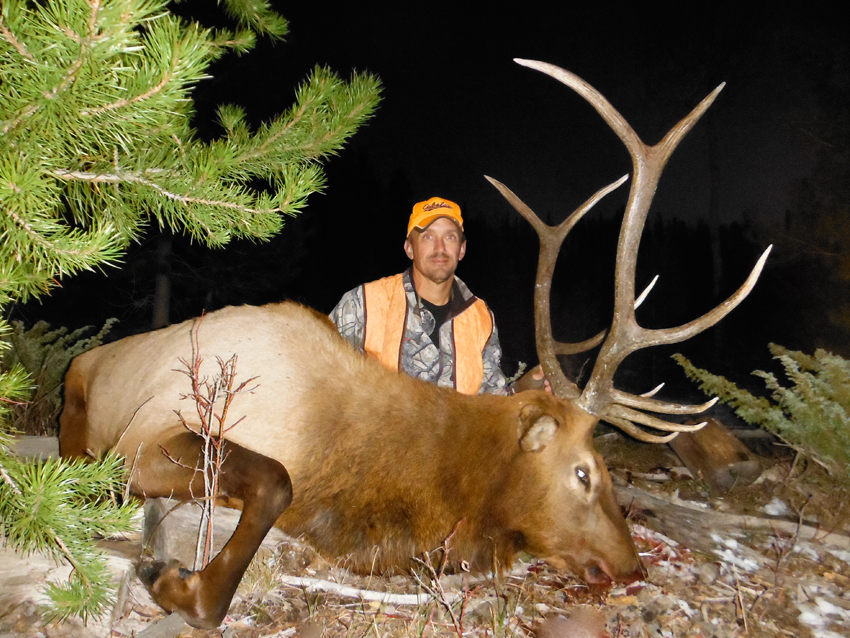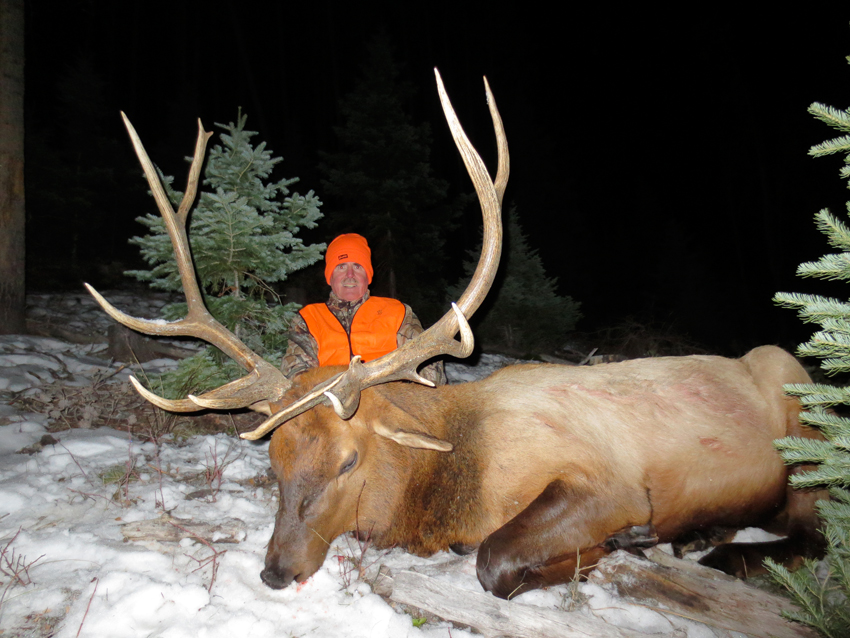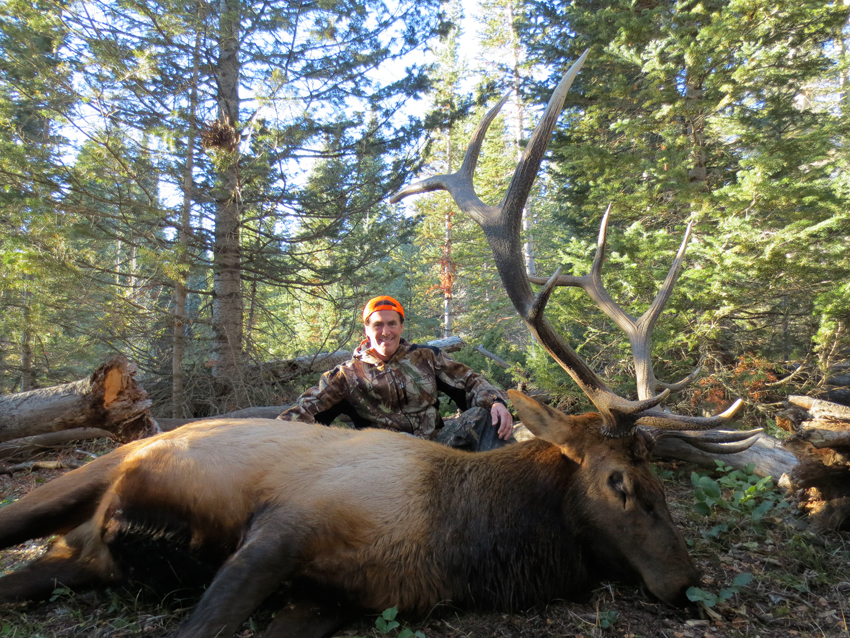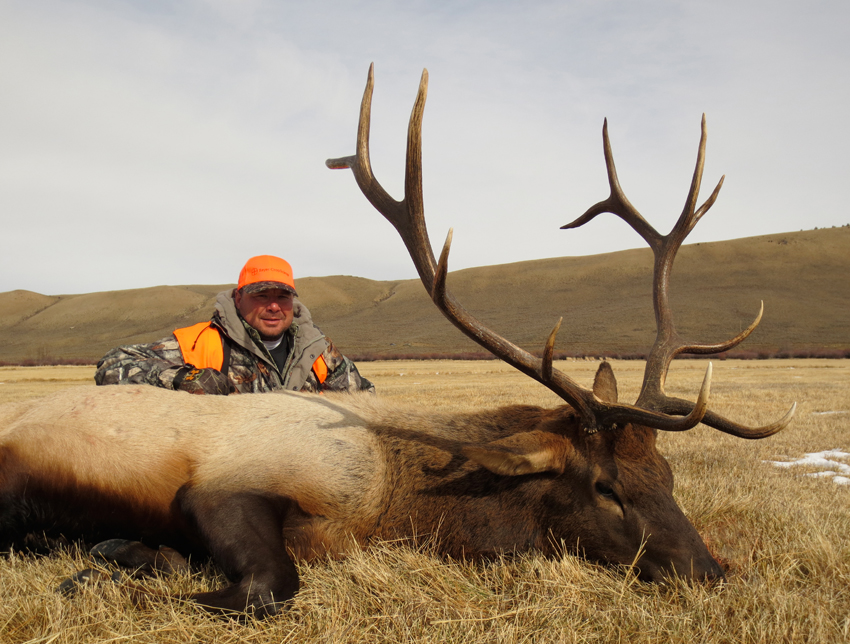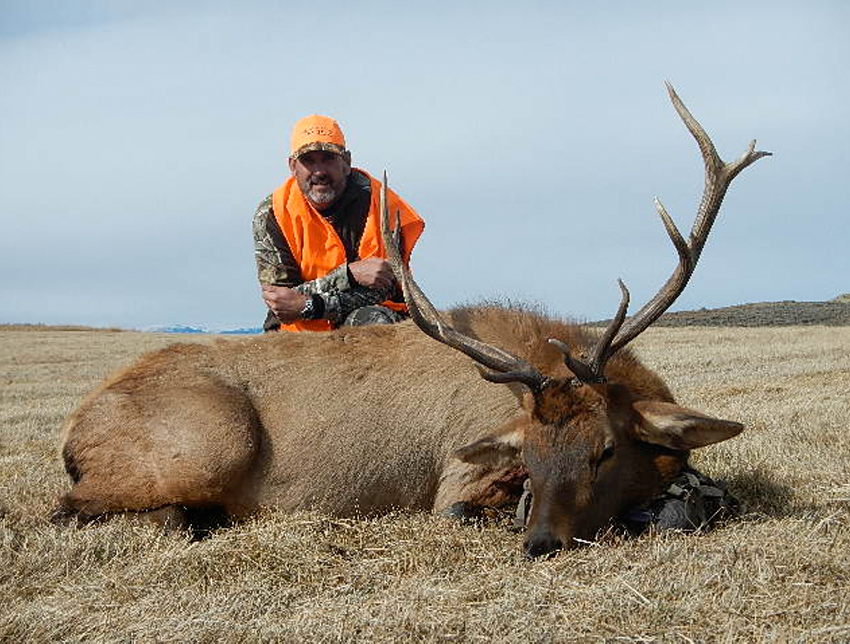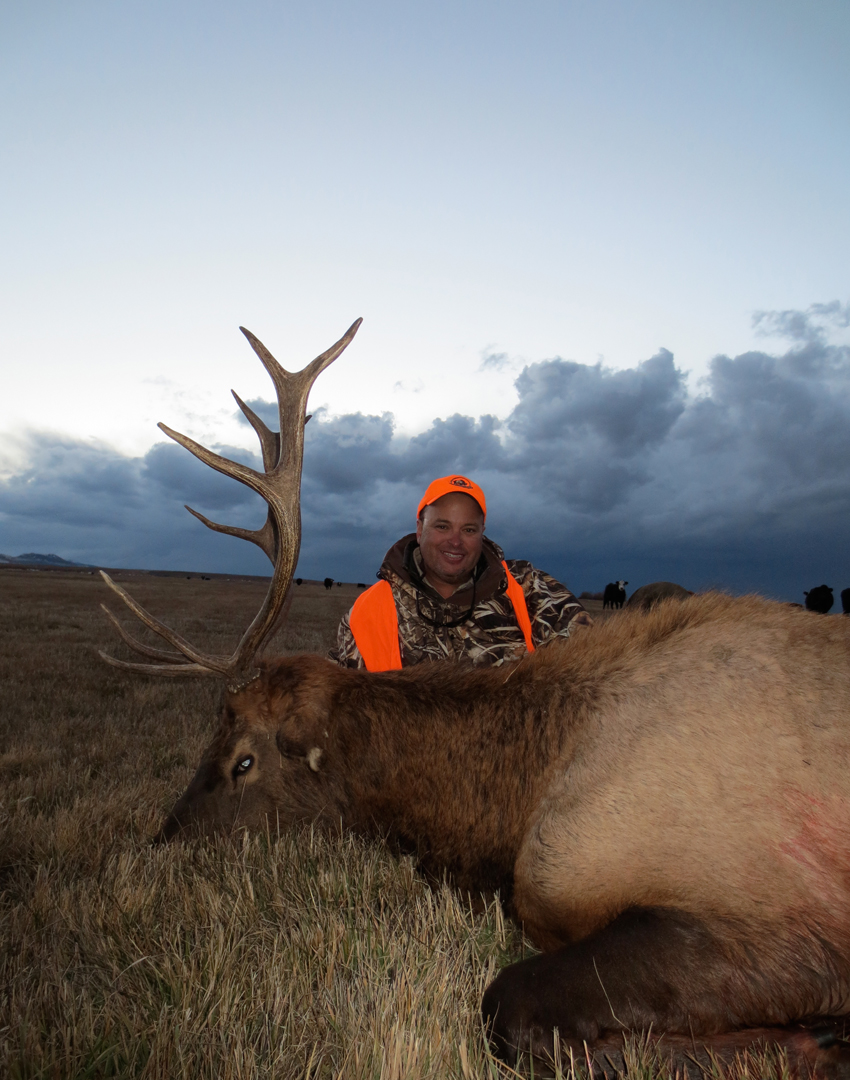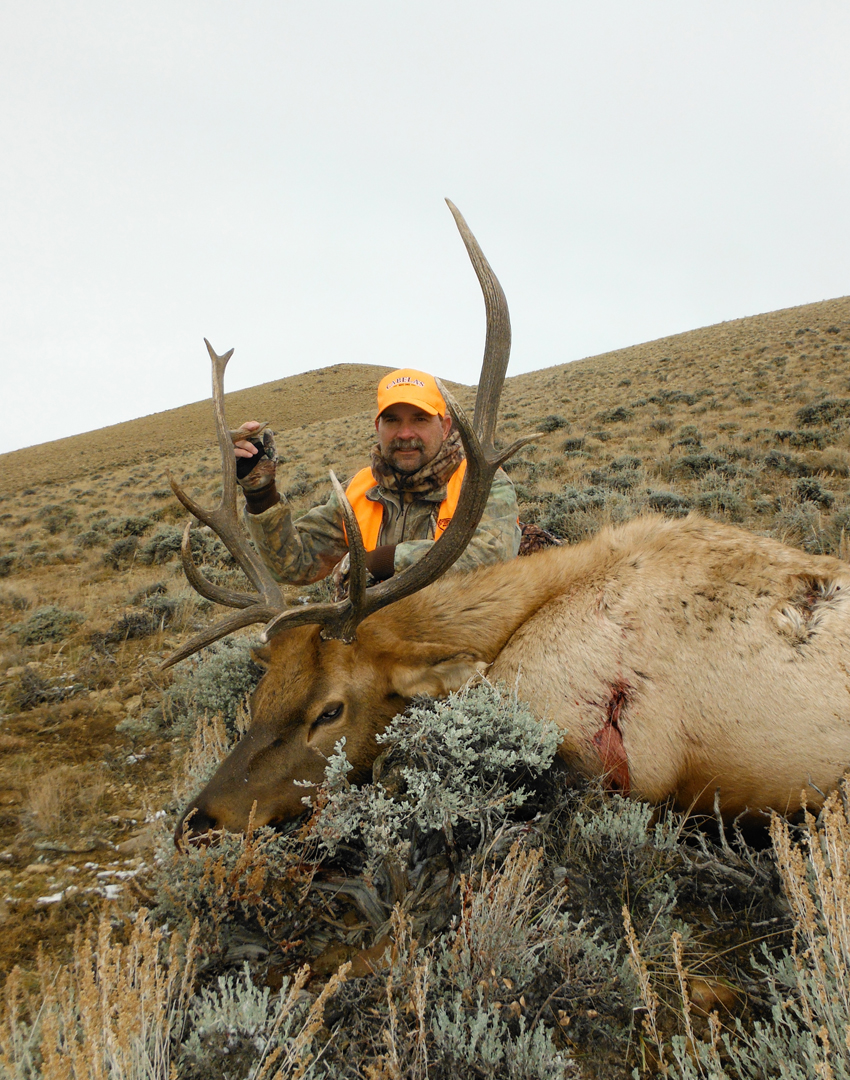 I began last years' commentary discussing the unusual weather of 2012 and, I'm afraid, I must do so again for this year. Ranchers do have a tendency to continually talk about the weather…I guess because it dictates so much of our livelihoods. Problem lies in the fact that it's getting difficult to know just what exactly is "normal" anymore! Last winter was, again, relatively mild and pretty easy on the local big game populations. As we approached spring, we were very concerned as the snowpack was too low to provide the necessary run-off for irrigation, green grasses and healthy stream flows throughout the summer. All that quickly changed when savage spring snowstorms hit us in April…right in the middle of our calving season. The blizzards definitely affected our cattle and, unfortunately, a higher than normal amount of calves were loss. However, the storms didn't greatly affect the elk calving because Mother Nature is wise and the big game animals don't start having calves well into May, after the brutal storms had subsided. While the abundant snow of April proved devastating for our baby calves and our crew that struggled night and day to keep them safe, it did provide the much needed snowpack for ample summer run-off… leading to lush grasses and happy wildlife.
Throughout the summer we viewed many elk on the ranch as they calved in our timbered areas and lazily fed in our pastures and hay meadows. Numerous solitary bulls were spotted later in the summer as the rut approached. September gave area ranchers', and everyone in Colorado for that matter, something to talk about when the skies opened-up with precipitation. As you probably witnessed on TV, many areas along Colorado's Northern Front Range suffered devastating floods. While we didn't suffer flooding here in North Park, we did experience unprecedented amounts of rain (over 8" in one month for an area that averages 14" of precipitation for the whole year) that halted our futile attempts to put up our hay. I don't know if the rains were the causing factor, but the rut was definitely later this year and never seemed to reach a "high-point" during the archery season. In fact, when the first rifle season opened, our hunters were treated to very vocal bulls trying to breed the cows that were still in estrus. It was a real treat for the rifle hunters to experience.
The 1st rifle seasoned arrived a little later in to October this year but the weather was still relatively mild with the occasional snow storm having come and gone, and us with hay still needing harvested. Our scouting prior to the season opener showed that many elk were still running in large herds with many bulls still hanging with them. Large herds may sound inviting, but we know it to be challenging hunting as it can be hard to get close to the many watchful sentries and even harder to get a clean shot opportunity on a bull. We were also somewhat nervous as 5 of our 8 hunters would only be able to stay for two and a half days of the five day hunt…we strive for getting all hunters a shot opportunity and we knew that cutting the hunting time in half would make this goal a little more challenging. Four of the eight hunters were returning guests; the others in camp were their friends. As chance would have it, all eight had shot opportunities despite the given time constraints. One hunter missed a bull at less than 100 yards, another passed on a couple smaller bulls, and six guests went home with nice trophies.
The 2nd season again brought our friends from the Bayer Crop Science Company as their top salespeople treated their top customers to some top-notch hunting. The weather continued it's relatively mild manner as the elk remained in bigger herds and continued their "pseudo-rutting behavior." All eight hunters were successful in getting shot opportunities within the first four days of the hunt. Unfortunately, only seven hunters went home with their trophies as the eighth elk was hit but, after a day of tracking, was never found. The second half of the season brought three hunters for our three day hunt. All were successful in bagging their bulls.
For the 3rd rifle season we welcomed another fine group of Bayer folks from the Florida area. Fortunately the weather was fairly mild, as far as weather at 9,000 feet can be in November, until the last day so their "Southern Blood" didn't get too thickened during their Rocky Mountain hunting adventure. Five of the six went home with bulls but, unfortunately, the sixth hunter's bull wasn't hit hard enough to bring down and will survive for another year…should be a monster next year.
As was the case in 2012, we left the 4th season for ranch employees to fill their freezers and they did so handedly within a couple days. Elk numbers remained high, the snow levels low, and we spotted a couple huge bulls on our properties throughout the season which is prompting us to offer some late season hunts in 2014. Since the tags are limited by drawing and are either sex for the 4th season, this hunt affords the opportunity for a big bull with the added bonus of taking a cow for the freezer should an opportunity for a bull not arise.
In summary, it was another fantastic season here on the Buffalo Creek Ranch. We hosted 25 rifle hunters; all had excellent shot opportunities on bull elk and 21 took home trophies. Most importantly, all were our special guests that we were able to share many extraordinary moments with and look forward to welcoming back in the near future.
Weather never ceases to amaze me; especially when so much of your life and livelihood revolves around it. Whereas 2011 was one of the wettest years ever recorded, 2012, thus far, is one of the driest years on record. Snowpack this past winter was dismal and translated to very little river water for irrigating our hay meadows and very "skinny" water for fly fishing. The grass in June was already turning brown and we were preparing ourselves for the possibility of running-out of feed for our cattle and needing to sell some off. We began haying a couple weeks earlier than normal and initial yield forecasts were about 20% of our normal production. Then, miraculously, our little corner of the world received some reprieve from the heat and dryness and nearly 5″ of rain fell during July. The rain arrived just in time and saved the hay crop from being a total bust, albeit less than an average crop, and we produced enough hay to hold our cattle herd through another North Park winter.
On the ranch the elk were plentiful all throughout the summer. Contrary to what we experienced during the late summer/fall of 2011, the elk were bugling early in the archery season despite the warm, dry weather. The bulls we saw during our early season cow hunts all seemed to have exceptional antler growth. This can best be attributed, in my opinion, to last years' mild winter and the high protein content in this years' grass. Mother Nature has a unique way of helping wildlife-when grass growth is minimal during drought; the limited grass tends to have a higher amount of protein.
Five returning guests and three new guests (accompanying one of the seasoned veterans) joined us for the first season. The weather had been mild during the week prior to the season opener but, in perfect fashion, we received some snow the night before the hunt. The first day proved to be as good as it gets with three bulls being harvested before 10:00 am and a fourth dropping that evening. During the first four days all hunters had shots at bulls but, unfortunately, we were unable to recover one of the bulls as the shot was not a lethal one. The batch of bulls encountered and harvested during the first season is proven testimony to the quality of elk that our ranch is harboring. The majority of bulls shot were very heavy antlered 6×6's with the largest one rough scoring about 340″. Our new, super-deluxe, hunting blinds (or shooting houses as they call them in Texas) proved their value as two awesome bulls were shot from them during the first day.
The second season was again taken by the Bayer Crop Science Company who yearly entertains some of their best customers and top salespeople to a once-in-a-lifetime hunting experience. Two guys were returnees, but the rest were new faces enjoying their first ever elk hunt. Seven of the eight left with bulls. The eighth hunter passed on several animals during the first four days then, as luck would have it, missed a bull on the last day mainly due to gun problems. I'll say it here for the record: leave semi-automatic actions to the shotguns-they have no use in the rifle world for hunting elk! All said, it was a great group and we had a lot of fun. They have their season reserved again for next year.
After our Bayer group left we quickly prepared for the group of 4 hunters arriving for our three day hunt. This year we had two father/son teams joining us; one seasoned veterans and one totally new to the sport of elk hunting. Another storm came through blanketing the ranch with about six inches of snow, providing ideal conditions for hunting and tracking. By the end of the first day, we had three bulls down. The second day brought the last guy face-to-face with plentiful numbers of elk but, unfortunately, there weren't any good bulls in the groups. He had to return home and was unable to hunt for the third day but is hooked on elk hunting and can't wait to return next year.
After the ending of the 2nd season we have a five day break before our third season hunters arrive. Generally the third season sees the ranch loaded with elk as hunting pressure from the surrounding areas coupled with the winter weather drives more elk on to the ranch. The weather during that week was unseasonably warm and dry with temperatures reaching into the sixties during the day. As our group of hunters arrived, we knew we had tough conditions facing us. The mild weather and incessant wind continued throughout the hunt. A few elk were spotted but no shots were taken during the first couple days. We took only one deer hunter this year and he connected with a dandy 4×4 the first evening of his hunt. We had another father and son team during the hunt as well as some elk hunting veterans and one newbie to elk hunting. The latter days of the hunt had us seeing some nice bulls but only connecting with a few. Some bulls were passed, some were missed, and some just never showed themselves to the hunters. Snow and cold weather arrived for the last couple days of the season and made the hunting a little better. The fourth season was spent by ranch employees, guides, family, and friends in the filling of our freezers with elk meat; mostly cows. It was amazing to find that the elk were still bugling and rutting well into November. Should be a heck of a calf crop next year.
Overall the 2012 hunting season was a great success. In summation: it was many great guests and ranch staff sharing great outdoor experiences, great food, and great hunting. Thank you all for making 2012 such a delightful year–we look forward to the same in 2013.
2011 proved to be a somewhat different and interesting year mainly from the unusually late spring we experienced. April and May were packed full of below-average temperatures and above-average precipitation-mostly in the form of snow. Typically we have tapered-off from feeding hay to our cattle by mid-May and they are out on green pastures enjoying the new grass as it begins to grow. This year we were struggling to find any grass growing well into June. Runoff from the surrounding snow-covered peaks is usually in full-swing by the end of May, but it was well into June this year before the streams and rivers reached their high-water mark. The weather patterns definitely assured us plenty of water for irrigating our hay meadows and keeping our streams healthy, but we wondered if any resemblance of spring or summer would ever arrive.
When you live at 9,000 feet of elevation, one definitely lives by the weather, especially when you typically only get three months of snow-free weather! This fact is compounded exponentially when your livelihood is based on agriculture and providing recreational opportunities in our spectacular mountain environment. The late spring resulted in changing most things as we know it: raging streams and a-typical bug hatches affected our fly fishing trips; abundant water but cold temperatures kept our pastures and hay meadows in a slow growth pattern; and the wildlife seemed to "hunkered-down" and await the late spring before they went about their normal patterns. Calving season for the elk seemed much later and I was witnessing tiny, newly-born calves into July. It's interesting to live closely with Mother Nature. She doesn't lie, and those that live closely within her clutches must simply adapt and follow her lead. So follow we did: we were a month late in getting our hay harvested; a month late in offering our float fishing trips; the mosquitoes lasted a month later than normal, our cattle did not grow at full potential, and the elk rut came much later than normal.
Enough of the weather recap for our area and back to the hunting. New for 2011 we were able to offer a few archery hunts. We picked the second week of the 4 week season as the elk are typically rutting pretty hard by then. But, as the previous two paragraphs explained, it was not a typical year. The elk were definitely on the ranch and we were able to get into them, but they weren't excitable with "rutting fever" and presented very few shot opportunities. Two of the four hunters we took did have shot opportunities on the final day of their hunt but the connection wasn't made. Hopefully things will go better next year during our archery hunt.
Another revelation consistently permeated my thoughts throughout this hunting season and, since this is my forum to speak, I feel I must vent my views. I've been offering guided elk hunts for 23 years now and I've seen many changes. The biggest change I've witnessed is hunters' main focus on antler size rather than the experience of the hunt. Most of the hunting shows focus on taking a 150″+ buck or a 350″+ bull, but rarely talk about the beautiful areas they are hunting. A 6×6 bull just isn't good enough anymore unless it scores at least 350″! I guess measuring is one way of gauging how successful we are in our various endeavors, but hunting offers many less quantitative factors that should not be forgotten in having a quality hunting experience. You cannot measure the emotions evoked within you when hearing a bull elk bugling as the sun crests a nearby ridge. You cannot measure the satisfaction of making a long and hard stalk up a steep ridge to find a herd peacefully grazing on the other side and totally unaware of your presence. You cannot measure the disappointment of a missed shot or the elation of a perfectly placed shot. You can measure antler size but you cannot quantitatively measure the quality of your hunting experience. Sure, when I hunt, I'm hoping and hunting for that big bull. But I find when I focus less on the end product of antler size; it enables me to enjoy all the other wonderful experiences involved with the hunt. In summary, if you're interested in hunting with us sometime, please remember we don't sell animals-we sell quality hunting experiences.
We had a great group of hunters this past fall. There were both males and females and they ranged in age from early teenagers to gentlemen well into their 70's. We had people completely new to big game hunting and those who have been on 50+ big game hunts. We took a total of 21 rifle hunters and 20 went home with bulls. The person that left without a bull had a great hunt, but not a very accurate rifle-such is hunting. Here are the hunters, their stories, and their elk. Come join us someday so we can share a great experience with you and get your smiling picture placed here!
First Season began with the usual large groups of elk hanging out on the ranch as well as some passing through on their daily migration movements. Early in the season there are often nice bulls still running with the large herds, and this year was no exception. The hunters were treated to plenty of shooting opportunities and some very unseasonably warm weather.
Unusual for the first season was the fact we had 6 hunters that were new to our hunting operation and two of which were entirely new to elk hunting in general. The two "newbies," a twelve year old girl and 70 year old gentleman, more than proved they have what it takes to hunt elk and I'm confident both are now certified elk hunting fanatics. Three of the six hunters shot nice 6×6 bulls. Two hunters had shooting opportunities at nice bulls but the connection wasn't made, although one did shoot a cow the last evening so he has a freezer full of prime eats for the coming year. One hunter passed on a couple smaller bulls and anxiously awaits his already booked hunt for the next year where he hopes for an opportunity at a nice 6×6.
The second season brought both new and familiar faces back to the ranch for our 5 day and 3 day hunt. The weather was wildly variable, to say the least. Some days were sunny with highs in the fifties while a couple days were filled with snow blowing sideways and temperatures dropping to single digits. The hunters toughed-it-out and persevered some very cold hours in the field and were rewarded with awesome experiences and shooting opportunities.
The elk were breaking into some smaller groups with more and more bulls shying away from the herds to do their solitary routine once the rutting is over and hunting pressure encapsulates the valley. We had 9 hunters and 8 went home with bulls. The ninth hunter passed on a couple bulls and connected with one the final evening, but it was a difficult shot and didn't bring the animal down. Elk are powerful animals and certainly don't die easily. I personally watched the animal run off and know he'll be back around for next years' hunt as he wasn't badly scathed from the poorly placed shot.
We had been anxiously awaiting the third season for several months as we were hosting a special guest, a Vietnam veteran who has been fighting cancer. Dan, and avid whitetail hunter in his home state of Michigan, has always dreamed of a Western hunting experience and, the good Lord willing, 2010 was the year his dream would come true. Dan arrived at the Denver airport full of excitement. He had never been out West and just seeing the Colorado Rockies for the first time left him speechless. On the drive to the ranch we were fortunate enough to see both a nice mule deer buck and dandy bull moose; another first for him.
The next morning we had Dan in position with his guide where he saw numerous elk and almost had a shot at a nice bull. He came in for lunch ecstatic at what the week held for him. Unfortunately Dan's health began to deteriorate that evening and he was unable to hunt the following day. The next day he flew back home and was admitted into the VA hospital. After undergoing some medical procedures, the medical staff informed us that he had, most likely, suffered a stroke while here. They also informed us that he couldn't quit talking about Colorado; its' grandeur, wildness, and the animals that called it home.
Dan spent a week in the hospital then went home where he peacefully passed away just before Thanksgiving. It is sad that Dan is gone, and that he wasn't able to complete his hunt, but we do find comfort in knowing that he did experience, albeit brief, something he had dreamed about his whole life and took home fond memories of the West. I'm glad we were able to be a part of helping him achieve his dream and thank all the other folks who helped make it possible.
In retrospect, I can't help but ponder what I learned from the experience. I had an uncle who died several years ago from cancer. He experienced life to its fullest and always claimed "This life is no dress rehearsal." When I turned forty I remembered his words and booked my first fishing trip to Northern British Columbia. Since then I have been fortunate enough to take several hunting and fishing trips to Canada, Alaska, and around the West. I believe it's not wealth or material possessions I'll be thinking about in my final hours, rather, it will be the memories, experiences, and relationships gathered over my lifetime that will bring a smile to my face. Remember; Today is the tomorrow you dreamed about yesterday. Go do something you've always dreamed of!
2nd Season:
2nd Rifle Season brought one returning customer, Steve Cumming, who was responsible for the other 5 new hunters. Steve, along with two other sales reps for Bayer Crop Science, Russ Tiller and Chris Payne, brought three of their best clients to show their appreciation. With both rookie and veteran elk hunters ready for the Buffalo Creek Elk Experience, second season started with a bang!
Once again, first season brought some familiar faces in the form of returning hunters. The Menard's returned for their 8th year, bringing along Chris' younger brother JR for his first elk hunt. Returning hunter from New York, Ed Richards, brought along his buddy, David Serth; another virgin elk hunter. So with camp full of both rookies and veterans, guides chomping at the bit, and the ranch loaded with elk, everyone was extremely excited for opening day!
The days prior to the hunt had been relatively warm and elk were quite plentiful on the ranch. All the guides were anxious for the hunt to begin and super excited to hunt with some old favorites. Well, not in the "decrepit" sense of the word old, but rather, returning guests that we've enjoyed before. All six of them, in fact. And all six of them enjoyed hunting as much as we did.
Two hunters brought along their wives, rounding out our normally male dominated conversations with their feminine input.
The weather certainly changed as the hunt progressed and the elk continued with their post-rut bugling which always adds excitement to the hunt. All six hunters bagged a bull elk and all six were branch-antlered bulls. Following are the pictures and stories, "in their own words."
First season brought very mild weather conditions and a rather eclectic cast of hunters to the Buffalo Creek Ranch. three of them were returning clients and four were "newbies" to the Buffalo Creek experience. The elk were plentiful, the weather was beautiful, and our guests were, well, colorful.
As usual, the elk on the ranch were still very vocal, which provided a bonus to the Buffalo Creek experience. The bulls we harvested were huge, bu the experience we all shared made it a truly exceptional hunting camp and a great way to begin the 2005 hunt.
Web author's notes (a non-hunt camp spouse): I heard more hilarious stories about this group than I ever have.. From the "special husky hunting gear" to the lovely anatomy lessons from the hot tub for our very polite kitchen help . . . you had everyone roaring. I can clearly see these stories being part of the Wapiti lodge folklore for decades to come. Thank you for putting smiles on our hard working guides and lodge staff's faces!
Second season had the wildest pacing of any hunting I've ever seen on the Buffalo and one of the nicest deer I've ever seen. The beautiful fall weather persisted with daytime highs of 60 degrees and nightly lows in the upper 20's or lower 30's. Unbelievably, the elk continued to be very vocal and all hunters were able to experience bugling during their hunt. This season brought six new hunters and one seasoned veteran to the ranch. Of the six new hunters, four had never hunted before but were anxious to "cut their teeth" in the elk hunting mecca that our ranch and staff have become known for. Read on to learn more.
New for this season and as a result of the DOW new nine day-long season, we decided to offer a three day hunt after our usual five day hunt. We hoped this would help meet some of our clients' time management needs, due to a busy hunting or work schedule. It proved to nicely fill a niche for two lucky hunters for Omaha, Nebraska. They both had their bulls before the sun set on the first day of their hunt. They have already booked the same hunt for next year.
Third Rifle Season: the weather for the beginning of this hunt was still relatively mild and remarkably, there was still some vocalization occurring during the rut, though it seemed to be more about the bulls keeping track of where the herd was and where they planned on going next. Nevertheless, it did help us gain position. There were still some large herds moving their way on and off the ranch, but many of the bulls had separated from the herds and were hanging out in smaller "bachelor groups." (No poker chips were spotted, however.) The guides were especially excited for this hunt as Sig Johnson was returning after hunting muleys with them during the special early season hunt in October. Now he was pursuing elk and was accompanied by his son and another friend for this very special elk hunt.