A Typical Day : (Hunting)
Hunters should arrive the afternoon before their scheduled hunt begins.  This will allow the opportunity for:  settling-in to the lodge, sighting in rifles to ensure accuracy, taking a brief tour of the ranch/hunting areas, meeting the staff and attending an orientation/safety meeting.  The first meal served during your stay will be dinner this first evening.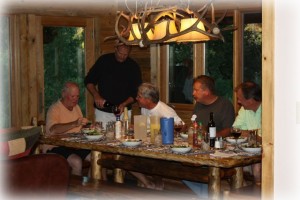 The basic structure for the next five days of hunting will be essentially the same.  Breakfast is generally served about 2 hours before sunrise.  Hunters can come to breakfast in casual attire.  The days hunting plan and guide/hunter pairings are reviewed during this time.  Guests return to their rooms where they dress and prepare for the mornings hunt.  Guides will have the vehicles ready and waiting for their clients; there are 2 clients per guide.  We head to the field about an hour before sunrise.
Hunting is conducted on foot.  Depending on game movements, weather, hunter preference, and physical limitations, a variety of hunting methods may be employed.  Spot-and-stalk, sitting on stand or in one of our comfortable blinds, or still-hunting are all options employed.  We generally hunt until late morning then return to the lodge for a mid-day break.  A hot lunch will be served and there is some time for guests to rest before returning to the field in the afternoon.  The evening hunt will last until dark, at which time we return to the lodge where appetizers are served and dinner will shortly follow.  Great stories, awesome food, and strategies for the next days' hunt will be shared by all.
Of course this is only the general pattern of a typical day.  One must not forget all the picture taking, field dressing, dragging, hauling, hanging, skinning, quartering, caping, cutting, processing, wrapping, and freezing we must accomplish for all our successful hunters!
Expected departure is the morning after the last days hunt.  Breakfast will be served (after sunrise!), meat will be packed-up for the trip home with you, capes and antlers will be readied for the taxidermist, group pictures will be taken, good-byes will be exchanged, and, more often than not, thrilled clients will request a spot for next years hunt!