Fly Fishing Trips in Colorado: A Once in a Lifetime Opportunity
You know you want to, you've been dreaming about a fly fishing trip to Colorado for years. Come on, now's the time, take the plunge.
Imagine this: Fly Fishing in solitude. The soothing gurgle of the river, tiny glimmers of gold that seem to reflect off of the water and the hum of your line arcing by your ear.  The perfect lie. The perfect presentation. The perfect take. The perfect moment.
These are the moments that make Colorado's own Buffalo Creek Ranch so spectacular.  Professional guides who know our waters are here to help you discover the truth behind the statement made by, Terry Wickstrom, television host of Mountain States Fishing, "a diversity of trout fishing that allows you to have any type of experience you might desire and the quality of people to ensure a great time." North Park, Colorado is the headwaters of the famed North Platte River; one of the most pristine, wild, and productive trout fisheries in the country.  Our waters present the unique opportunity to attain a coveted Rocky Mountain Grand Slam (to catch 4 species of trout:  brook, brown, rainbow, and cutthroat), a commendable achievement for any visitor.  Our home ranch alone boasts several miles of Buffalo Creek (just 200 yards from the lodge), and five lakes, with the 45 acre Buffalo Lake just a short 400 yards from the lodge.
While the Buffalo Creek Ranch, our home ranch, offers spectacular angling opportunities in and of itself, our guests enjoy access to the three other ranches and properties that we own and manage:  The Illinois River Ranch, The Headwaters Ranch, and Meadow Creek Reservoir.  These properties offer-up an additional 15 miles of private, carefully managed streams and an additional two lakes—the largest topping out at over 250 acres.  You may have been on other fly fishing trips in Colorado, but we think you'll agree, Buffalo Creek Ranch is definitely home to some of the most breathtaking and pristine streams and rivers in all of Colorado.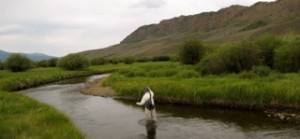 "I have done a lot of fishing up and down the East Coast, The Bahamas's, Aruba, and many other places, and I have to say, hands down, this trip was the absolute best.  Your staff is by far your greatest asset and not with fake customer service!  Your guides were awesome and made great "fishing buddies" while putting us onto loads of fish.  You made us feel at home . . . riding around in the pickup after a "sweet" day fishing.  The fly shop and all those employees are a first class establishment that met the needs and wants of this awestruck angler. Your ranch is absolutely beautiful and cannot be described with words or showing pictures.  It is a "bliss" that has to be experienced in person.  This is a trip that will never be forgotten."
Your friend and customer
G.W. Hall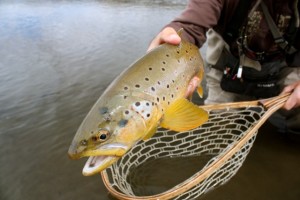 If that's not enough trout-laden water to satisfy your fly fishing passion, how about another 60 miles of private rivers and streams that we've added to our private waters smorgasbord!  That's right; we've recently acquired the exclusive fishing rights on the largest ranch in North Park, Colorado (approximately 75,000 acres) and are now offering these unbelievably prolific waters to our lodge guests.  Just imagine; 75 miles of private rivers and 12 private lakes to choose from during your fly fishing trip dream vacation—you might want to consider spending the whole summer!
As you can see, we take our fly fishing seriously, that's why we also own and operate the areas only full service fly shop, North Park Anglers, keeping our fingers on the pulse of North Park's meadow streams, freestone rivers, and prolific lakes. Let's face it, weather, water, fishing conditions, and even personal preferences, requires the need for diverse fly fishing opportunities.  To further meet these needs we also lease other private waters throughout the area and maintain permits to guide some of the best kept secrets on public water.  For the ultimate river experience, allow us to float you through designated wilderness on the blue ribbon waters of the North Platte River.  Not much has changed along these banks since 1844 when Captain John C. Freemont explored his way up river to discover the wilds of her origin, North Park.