D.I.Y. Hunts for 2015
DIY Hunts available for 2015
New for 2015, we're offering a few DIY hunts.  These hunts are designed for hunters that are looking for quality ground to hunt but yearn to get it done on there own.  The two different hunts were offering include lodging with access to private and public land.   Both hunts are located on properties we own and manage and have had very good hunting success.  We understand quality hunting ground is hard to come by, especially for the out-of-state hunter so this was a sensible decision to help fill that void for a select group of hunters each year.  If you desire a Colorado Elk Hunt where the hard work of scouting and setting up camp is already done then just show up, this HUNT is for you!  Give us a call (970) 723-4045
D.I.Y. #1 (Headwaters Ranch Luxury Cabin and Hunting Ground)
Our 1st hunt is located on our Headwaters Ranch along the west side of North Park at the foot of the "Zirkel Wilderness Area" in Colorado Game Unit #16.  The hunt includes access to 3000 private acres and access to public land through private property.  This property also includes lodging at our Headwaters cabin, which is very nice and located in the heart of the property.   The "off the grid" cabin has a fully equipped kitchen, fridge/freezer, beds, bedding, woodstove, shower, bathroom, and sleeps 4 very comfortably.   This property has proven to be very good hunting and lends supreme access to public land through our property.
Price $6000 (Max of 4 Hunters)
Hunts available during Archery and the 4 Big Game Rifle seasons
Archery: August 29-September 27 2015
Rifle: 1st October 10-14, 2nd October 17-25, 3rd October 31-Nov 8, 4th November 11-15
*During Archery and the 2nd and 3rd Rifle Season, call us to see which 5-day hunts are available
D.I.Y. #2 (Pole Mountain Tent Camp and Hunting Ground)
Our 2nd D.I.Y. hunt is located on our Pole Mountain property along the West side of North Park in Colorado Game Unit #16.  This hunt is located on 1240 private acres that is surrounded by public and private lands.  Pole Mountain is a high mountain butte located in the middle of the valley.  This hunt includes an Outfitter style tent with cots, cookware, and wood-stove.  The tent is located on the east rim of the property and Elk could be located right out the door.  This property features long drainage's, open sage, a pond, and large Aspen groves that elk love to bed in.  This property provides a true western Elk hunting adventure and has been very successful for us over the years.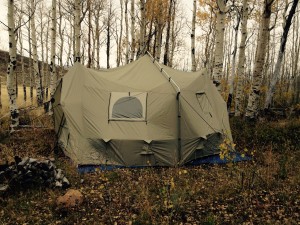 Price $6000 (Max of 4 Hunters)
Hunt Available during 4th Rifle November 11-15, 2015